What happened during the first 618 shopping festival after China ended its zero-COVID policy?
Analyzing notable differences in this year's 618 campaign compared to previous years.
by Azoya
The highly competitive Chinese mid-year e-commerce 618 shopping festival has come to a close. According to Syntun Data, the 2023 618 gross merchandise value (GMV) reached an astonishing 798.7 billion yuan ($110.5 billion US), rising 14.7% year-over-year (YoY). Many market watchers interpret these results as a signal of rapid spending recovery in China after the country lifted its zero-Covid policy.
In this article, we analyze this year's 618 campaign from the perspectives of online channel strategies, industry trends, and changes in consumer behavior for notable differences compared to previous years.
Chinese e-commerce platforms adjusted their strategies to stimulate growth
Consumption demand did not meet expectations after the pandemic, prompting major e-commerce platforms in China to figure out several new approaches to engage with consumers and stimulate demand. Notable strategies included increased use of deep discounts, livestreaming, and generative AI.
One of the major changes was the simplification of the promotion mechanism. By reducing complex rules to qualify for discounts, many merchants directly leveraged price drops to increase conversion rates. Tmall, for instance, allowed merchants to choose between direct discount campaigns, or volume discount campaigns. This change simplified the decision making process for customers, as they no longer needed to compare prices and navigate between different vouchers, eventually making up a higher order value to be eligible for discounts.
According to JD.com and Tmall, they provided the greatest 618 discount ever to consumers. Among the participating merchants, we also noticed international brands offered historical discounts, averaging 35% off, and exerting huge pressure on small and medium-sized enterprises who have lower market demand.
The extraordinary intensity of this year's 618 promotions is partly attributed to merchants' urgency to clear a sizeable inventory. During the pandemic, consumers became cautious about their spending habits. Consequently, sales of non-essential products declined in Q1 of 2023, resulting in historically low Women's Day e-commerce campaign performance, compelling merchants to sell inventory more aggressively for this 618 campaign.
Although promotions were unprecedented this year, it appears that consumers were less enthusiastic than expected. This result could be attributed to the availability of diverse shopping festivals throughout the year, and the surplus of various e-commerce platforms that indulged in discounting, including platforms like Pinduoduo (Temu's Chinese parent), Little Red Book, and Douyin (China's original form of TikTok). Additionally, consumers' mentality has migrated from discount-driven to rational consumption.
However, there is no denying that consumers' appetites were bigger during 618. Both shoppers and merchants increasingly engaged in livestreaming - an important format for e-commerce campaigns that is efficient at generating a real-time urge to buy.

According to Douyin's 618 report, the cumulative amount of livestreaming time reached an astonishing 42.02 million hours, with short videos featuring shopping cart links viewed 130.9 billion times. This surge in livestreaming hours contributed to a 66% YoY increase in sales.
Livestreaming is an important e-commerce vehicle in China and it is evolving into new genres. Social shopping platform Little Red Book (LRB) took a unique approach by promoting "quiet selling" in their key opinion leader (KOL or influencer) livestreams. Departing from the traditionally noisy and price-driven atmosphere, LRB's live streams focused more on lifestyle and education. A collaboration with Zhang Xiaohui, one of China's top influencers, resulted in a remarkable $86 million in sales among niche brands from a single livestream.
Merchants and platforms are producing content at record speed this year due to the utilization of generative AI. These efforts include use cases like generating personalized product recommendations, digital human interactions, and short-video scripts to engage more consumers.
Liu Bo, the Director of Public Relations at Taobao & Tmall Group (Taotian) from Alibaba, remarked, "During this year's 618, we discovered improved capabilities of AI in automatically generating graphics, text, and short videos. I believe this can provide valuable insights into the successful matching of AI-driven products with consumers."
Besides, generative AI improves efficiency by completing repetitive tasks for human-led operations teams, such as intelligent customer service, inventory management, and predictive pricing. Intelligence and efficiency made AI an outstanding marketing asset for this year's 618 event.
Major e-commerce channels cater to domestic and international merchants
After years of development, 618 has transformed from a low-priced sales event for consumers to a grand marketing event for merchants. Small and medium-sized enterprises (SMEs), including merchants and emerging brands, are taking advantage of these campaigns to grow their brand awareness, sales and market share. Tmall, the largest e-commerce platform in China, also adjusted its strategy to support SMEs by launching "Great Value," the first event designed specifically for smaller businesses during the 618 festival. According to platform data, over 2.56 million SMEs achieved increased sales compared to the same period last year, with 1.18 million of them reaching a sales target of 10,000 yuan ($1386 US).
JD.com continued to leverage its robust supply chain capabilities to improve consumer experience. This year, the number of online brand merchants participating in the 618 event on JD.com reached a record high, and offline physical stores also saw increased participation. More than 95% of districts and counties across China achieved same-day and next-day delivery, with over 2,000 cities and counties providing "one-hour delivery" services, ensuring customers promptly received their packages.
Douyin made significant investments in online stores and enhancing the overall user experience. It has introduced various events, including cross-store order accounts, great deals, and search incentive competitions to assist merchants in developing online stores and drive traffic to the platform. Consequently, these coordinated efforts influenced user browsing and shopping habits, ultimately leading to accelerated content production on the platform. Douyin's focus on improving the user experience, aimed at establishing a strong foundation with which to build relationships and foster a healthy ecosystem conducive to repeat purchases. As a result, Douyin's GMV earned an impressive 70% YoY growth.
WeChat Video Account also adopted a similar strategy by reducing its technical service fee from 1%-5% to 1% for all merchants. This encouraged merchants to create more short videos and host livestreams, particularly benefiting the apparel and fashion industry. For example, Hierarch Qiao, a prominent influencer on the WeChat Video account, initially aimed for 30 million yuan ($4.3 million) in sales during the 618 event. However, the actual sales exceeded expectations, surpassing 60 million yuan ($8.3 million), double the projected amount.
Three more channels in the Chinese market worth noting are Little Red Book (LRB), Kuaishou, and Pinduoduo (PDD).

1. LRB is currently making significant strides in improving its e-commerce channel, effectively merging content communities with online shopping. The platform's commitment to delivering high-quality content has resulted in a four-fold increase in daily shopping users compared to last year.
2. Kuaishou's social media platform has introduced a traffic encouragement plan, effectively breaking the wall between influencers and merchants. By leveraging influencers to help merchants target their desired consumers, merchants can conduct their own livestreams, thereby generating more traffic. This strategic move has contributed to a remarkable 15% growth in the overall GMV.
3. Pinduoduo, renowned for its low-priced offerings, has distributed a staggering 5 billion coupons in addition to providing 10 billion subsidies. By adopting this approach, Pinduoduo aims to win the price war as consumers seek deals.
Tmall as a main platform for beauty brands to maximize their value
Compared to other industries, the recovery of beauty sales was more evident during this 618 event. According to CBO.CN, during 618, the beauty industry generated online GMV reaching 61 billion yuan ($8.7 billion US).
During the first four hours of the 618 event, international beauty brands experienced remarkable growth, demonstrating increasing demand among Chinese consumers. Chanel witnessed an impressive surge of over 70%, while Tom Ford and Dior saw respective increases of over 60% and 50%. Despite the previous dampening of demand, Chinese customers have accumulated a strong brand perception and exhibited a willingness to purchase international brands, especially when the marketing fee was cut down in the last two years.
Notably, among these international brands, niche brands displayed even more significant growth rates. Evidens, Argentum, and Sensai experienced astounding increases of 140%, 670%, and 330% on Tmall , respectively. This trend underscores Chinese consumers' preference for individualized and high-quality products. For niche brands that have segmented their audience and are prepared to enter the Chinese market, this trend presents a golden opportunity to capitalize on the growing demand for personalized beauty.
Niche brands can learn marketing best practices from Chinese domestic brands that developed rapidly over the past two years. For example, PROYA leveraged the skincare concept of "Vitamin C in the morning and Retinol C at night" to address the price sensitivity of young consumers, educate them about product benefits, and enhance their reliance on the brand.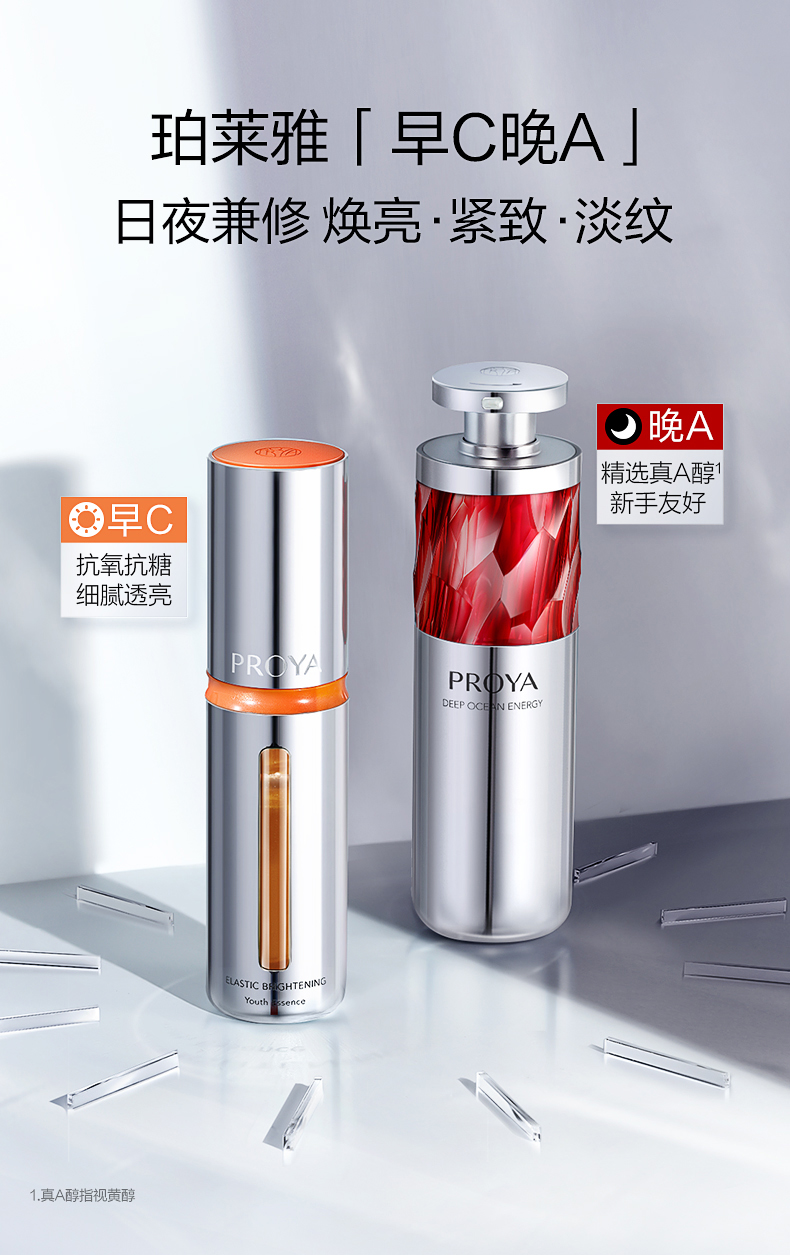 Consumers are more concerned about health and lifestyle after the pandemic
During the first 28 hours of the 618 event, the sale of nutrition and self-care products witnessed a remarkable increase of 593.5% on JD.com. After three years of the pandemic, the public has gradually become more health-conscious and is now more willing to invest in their own well-being. Simultaneously, health products exhibit a higher repurchase rate, and consumers can take advantage of ultra-low discounts to stock up for emergencies. "Physical examination and vaccine appointments have suddenly surged in popularity," stated Shao Qing, the founder of Beijing YaoFu Technology Cooperation.
Following the lifting of lockdown measures, fitness and outdoor activities have reopened to the public, resulting in a surge in demand for sports and exercise, as well as activewear.
According to JD.com, the sales of running shoes, sports casual shoes, sports slippers, sun-protective clothing, and other related categories have risen by over 100% YoY. Brands like Arc'teryx, Crocs, and Saucony have experienced increased turnover of more than 150% YoY.
Of note, high-end sports brand Lululemon has provided over 50% of total sales in this category, leading to a 15-fold increase in revenue. "Lululemon's sales record in the yoga market is particularly excellent due to women's increased awareness of fitness. Yoga demands high-quality, comfortable clothing from a trusted brand," commented by Zhang Yi, an analyst at iiMedia Consulting.
Moreover, Nike and Adidas, the two leading sportswear brands, are experiencing a warming-up of demand in China. Nike secured the top spot in the sport category on Tmall, while Adidas ranked third. In fact, Adidas's sales didn't even reach half of Nike's in 2022. This divergence can be attributed to Nike's strategic adjustments, particularly their targeting of Generation Z. During the 618 event, Nike launched a street dance series and created over 5,000 engaging videos, specifically catering to the younger demographic. Additionally, Nike organized activities focused on women, promoting retro running shoes, Y2K clothing, and white shoes, resulting in a remarkable 32% increase in sales of women's products.
By contrast, Adidas allocated more of its budget to advertising rather than investing in new designs and technologies. This approach may have contributed to aesthetic fatigue among consumers. To achieve better performance, it is crucial for Adidas to seize the attention of the younger demographic and align with localized trends in China.
The transformation of customers' psychology
Rational consumption has witnessed a notable surge, replacing impulsive buying behaviors, within the Chinese market. As the middle class continues to grow, consumers have shifted their priorities from mere price considerations to focusing on product quality and unique attributes. Researching and comparing products with their competitors has become a norm, indicating a more thoughtful approach to purchasing decisions. Additionally, consumers now place great importance on product experience and emotional connection, which are greatly influenced by brand storytelling and marketing strategies.
The younger generation, particularly Gen Z, stands out as a remarkable consumer group. They possess a strong affinity for personalized and customized products, thereby creating significant opportunities for niche brands. Furthermore, they place immense value on self-expression and seek out social experiences through their consumption choices. This trend is exemplified by the success of various niche brands, such as Fenty Beauty, Aesop, and Acne Studios, which have effectively found their niche in the Chinese market by catering to the specific needs and preferences of this generation.
This shift in consumer behavior, driven by rationality and a desire for personalization, has reshaped the market dynamics in China. Brands that can effectively tap into these trends, offer unique experiences, and align their storytelling with the values and aspirations of Chinese consumers, especially the younger generation, are well-positioned to thrive in this evolving landscape.
The 618 shopping festival has emerged as the most fiercely competitive e-commerce event to date, fueled by the ambitions of platforms and brands seeking to capitalize on the opportunities following the prolonged lockdown in China. This year's event has showcased a combination of stable strategies adopted by giant platforms, fluctuating sales across various industries, and a notable shift in consumer psychology. These factors collectively indicate the immense potential that awaits exploration in the Chinese e-commerce market.